West Acres Mall Extends Closure Through April 30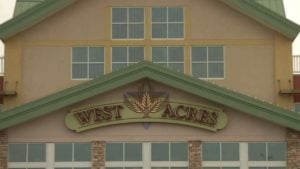 FARGO, N.D.–West Acres has announced it is extending its temporary closure of the mall through April 30th at the earliest.
The mall posted a note to the community on its Facebook page.
With the continued progression of COVID-19, and in keeping the health and safety of our community as our highest priority, we will be extending the temporary closure of West Acres through at least April 30th.
These times are unprecedented, and it is more important than ever for us all to come together to support one another and do the right thing – for the well-being of our community, and beyond.
We are so grateful for the people that make up West Acres – our team members, partners, store employees, visitors, business partners, vendors, and more. Without all of you, there would be no us. We want you to know we're here for you, and it is our job to ensure a vibrant shopping center can welcome you back when this is over. As we've said, there is no greater joy for us than to create a space for our community and region to gather. We will get through this together. Until then, stay healthy & stay safe.