Cass County Participating in Statewide Tornado Drill Wednesday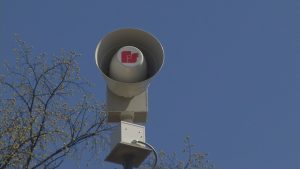 CASS COUNTY, N.D.–Cass County is participating in a full-system test of the outdoor siren warning system on Wednesday as part of North Dakota Severe Weather Awareness Week.
Cass County residents should begin hearing the siren at approximately 11:15 a.m.
Residents are encouraged to conduct a tornado drill when the siren sounds to practice tornado sheltering plans.
Cass County Emergency Management says when the sirens sound during an actual event, you should seek shelter indoors and turn to local media for further information. Even if skies are clear, a non-weather emergency may be happening. They also encourage residents to only call 9-1-1 in an actual emergency.
Anyone with questions regarding the siren warning system can contact 701-476-4068.