Hankinson man arrested after high speed chase in South Dakota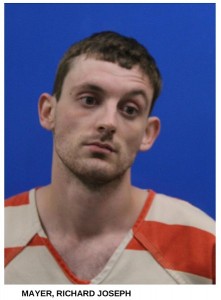 PIERRE, S.D. (KVRR/KWAT) – A Hankinson, N.D. man faces a number of charges following a high speed chase over the weekend.
A Hughes County Sheriff's deputy attempted to stop 26 year-old Richard Mayer for speeding on Highway 14 east of Pierre Saturday night.
Mayer wouldn't pull over, and the chase was on across the Missouri River bridge into Fort Pierre, and then into Stanley and Haakon counties.
A Haakon County deputy deployed tire deflation sticks, which caused Mayer's vehicle to slow down, but not stop.
A perimeter was set up after Mayer drove into a pasture and the vehicle became disabled, and a South Dakota Highway Patrol airplane was called in to help lead authorities to Mayer.
Mayer was arrested and is charged with Aggravated Eluding, Reckless Driving, Obstructing Law Enforcement, Third Offense DUI and Driving Without A License.
Mayer is also wanted on two warrants in Pennington County.