Clay County jail administrator retiring after 30 years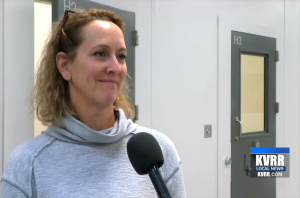 MOORHEAD, Minn. (KVRR) – When Julie Savat began work as a correctional officer at the Clay County Jail in 1991, inmates were kept behind steel bars in an aging facility that eventually would be demolished and replaced.
Fast forward to 2021.  The steel bars are gone and the county has one of the newest, state-of-the-art jails in Minnesota.  Soon, the county will also have a new jail administrator.
Savat, who's been in charge of the jail since 1995, says it's time to retire.
"I cannot say enough good about her.  I don't know where to start" Clay County Sheriff Mark Empting said.  "Julie helped guide us through a very difficult time with overcrowding and then later during construction of the new facility."
Savat says one of the biggest changes over the years is how the jail deals with inmates who suffer from mental illness.  Many of those who end up in the jail suffer from addiction and mental health issues.
Savat says because of a lack of resources elsewhere in the community, the jail has been helping fill the gap.  She says it's important to get inmates "on a better path" and to reduce the chances of them returning.
Inmates can also participate in Bible Study and classes that deal with parenting and personal finances.
Savat has worked for four sheriffs including Empting, Larry Costello, Craig Baker and Bill Bergquist.
Empting says Savat's successor, assistant jail administrator Justin Roberts, will take over on June 1.