Man Wanted By Police Caught After Fleeing Third-Floor Apartment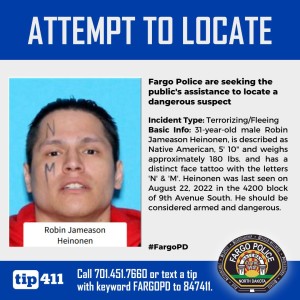 FARGO, N.D. (KVRR/KFGO) — Fargo police catch a suspect they've been searching for since August.
A 3 a.m. tip came into police dispatch that 31-year old Robin Heinonen was at an apartment building on the 1800 block of 42nd Street South.
He fled from the third floor balcony but K9 Uno was able to track him down.
Heinonen was taken to the hospital for non-life threatening injuries he suffered from his jump from the balcony and leg laceration from the K9.
He was arrested for six outstanding Cass County warrants including gross sexual imposition and terrorizing.