Funding For Moorhead Flood Protection, Dilworth Fire Station In Walz Budget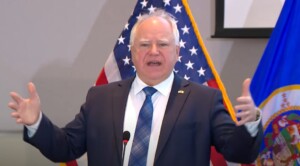 ST. PAUL, Minn. (KFGO) – Gov. Tim Walz has proposed a $3.3 billion bonding bill that would include millions of dollars for projects in Moorhead and Dilworth.
As part of the bonding bill, the City of Moorhead would receive over $24 million for flood protection.
Minnesota State University Moorhead would get $23 million for renovations and an addition to Weld Hall. The project would address deferred maintenance, improve teaching, and classroom size.
Dilworth would receive much-needed funding for a fire station. A grant of $4.4 million to the City of Dilworth would go to demolish and build a new, or renovate the existing, fire station and community center. The total project cost is $8.756 million.
The governor recommends over $650 million for local bridge and road projects, plus water and sewer infrastructure; over $1.2 billion for preserving existing facilities. Walz also recommends nearly $500 million for safe and affordable housing projects to address a shortage across Minnesota, over $300 million for "environmental stewardship," and more than $90 million for needed improvements at veterans homes in Hastings, Preston, Montevideo and Bemidji.
Other funding to area cities in the proposal are a $1.4 million grant to the City of Detroit Lakes to rehabilitate the Washington Ballfield and Grandstand, a $5.2 million grant to the City of Fergus Falls to acquire land, predesign, design, and construct a river balcony, trail, playground, parking lot, and fishing pier along the Otter Tail River, and $1.5 million for a grant to the City of Pelican Rapids to demolish and reconstruct a municipal swimming pool and to build a water slide, lazy river, zero-depth entry, splash pad, gazebo, and bathhouse.
The Governor recommends $939,000 for a grant to Otter Tail County for the construction of the Glacial Edge Regional Trail segment located within Maplewood State Park.