Burgum Bashes White House While Praising North Dakota Oil And Gas Industry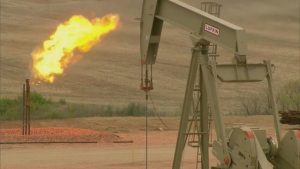 BISMARCK, N.D. (AP/KVRR) — Gov. Doug Burgum is praising the oil and gas industry for being a "powerhouse" and "game-changer" for the state's economy.
He is also bashing the White House for trying to shift the country away from climate change-causing fossil fuels.
Citing recent studies, the Republican governor says the industry contributed more than $42 billion to the state's economy in 2021.
It also employed nearly 50,000 people and was responsible for more than half of the state's tax revenue.
"Volatile prices and of course these misguided federal policies demonstrate that the North Dakota oil and gas has the ability to not just contribute to be resilient against all of these head winds and continue to make such a big impact," said Burgum.
Coal, oil and gas are by far the largest contributors to global climate change, according to the United Nations.