Pass the Bread: After 21 Years, Breadsmith Owner Sells Franchise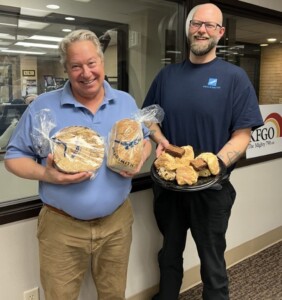 FARGO, N.D. (KFGO) — Longtime Breadsmith owner Rob Roberts says after being at the helm for 21 years, he decided it was time to inject some new energy into the business, and he found the boost he was looking for in Jason Aamodt, who up until recently was the co-owner of Meats by John & Wayne.
Aamodt says nothing will change when he takes over as owner of the beloved south Fargo artisan bakery on March 26.
"Being a customer of Rob's for years and years, and coming over from Meats by John & Wayne – it's like surfing over from number one to number one. I'm just trying to keep the name alive and keep it fresh," Aamodt says.
Roberts says he'll stick around for six weeks after Aamodt takes over to ensure a smooth transition.
"He's going to further the brand and increase sales," Roberts says. "This is going be a wonderful thing because he's got the energy I don't have."
Aamodt says the bakery's tried and true model is safe with him – and that he only wants to grow Breadsmith's footprint.
"I've been around too long, at too many places, and especially in town here during COVID and after, there's been a lot of ownership changes and people change things. But I'm not here to fix anything because nothing's broken," Aamodt says.
Aamodt says there are items on the master Breadsmith menu that the Fargo franchise has yet to tap into, and he'd like to work those into the store's rotation. Breadsmith's corporate headquarters are based in Milwaukee, WI, and the company has locations in over a dozen states.