Two Men Arrested After High Speed Chase in Moorhead Overnight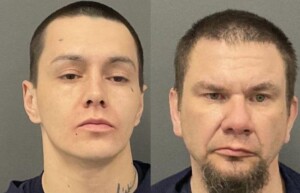 MOORHEAD, Minn. (KVRR/KFGO) — Two men are arrested following a high-speed chase early Tuesday morning in Moorhead.
28-year-old Jovan Gagnon of Mahnomen fled during a traffic stop.
But the chase was called off due to the high rate of speed.
The vehicle was later spotted near Village Green Boulevard and stop sticks were used to stop it and Gagnon and his passenger, 44-year-old Shawn Mosca of Detroit Lakes, made a run for it.
Mosca was quickly tracked down and Gagnon was found hiding under a vehicle in a parking lot.
Both men face charges of fleeing while Mosca was also wanted on outstanding warrants.