Gov. Burgum Signs Bill Exempting Military Members From State Income Taxes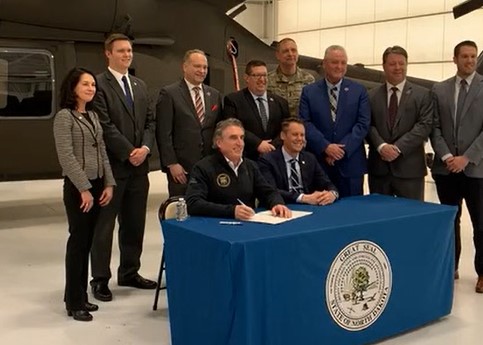 BISMARCK, N.D. (KVRR) — North Dakota Gov Doug Burgum signing a bill to exempt military pay from state income taxes for active duty, National Guard and Reserve members.
It's expected to reduce service members' income taxes by $4 million in the 2023 to 2025 biennium.
That encompasses all federal pay for training, education, mobilization and bonuses as well as state pay when called to support an emergency on state active duty.
Burgum was joined for the signing by the prime sponsor of the bill, Sen. Scott Meyer of Grand Forks, among others.
He says it'll impact thousands of military members.
"So in total that's more than 11,000 active duty, guard and reserve members who earn income in North Dakota. Cutting income taxes for all of those will help support their spouses and their children," said Burgum.
"This is good for North Dakota," said Maj. Gen. Al Dohrmann of the North Dakota National Guard.
"Our base retention is critically important, this helps support that. I think Sen. Meyer said it more than once: there's a big difference between saying you're a low tax state and you're a no tax state."
This latest bill builds on legislation signed in 2019 that exempts military retirement pay.
Twelve states fully exempt military income from state income tax, including Minnesota.