Update: Evacuations end in Raymond, Minn. after train derailment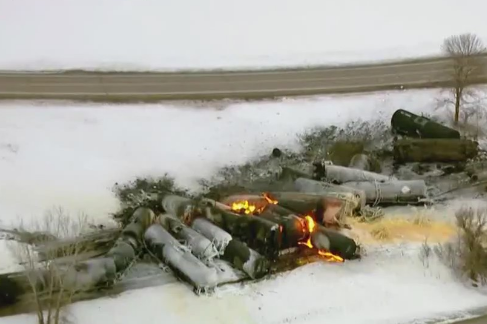 PRINSBURG, Minn. (AP) — Hundreds of people had to evacuate their Minnesota town after a train hauling ethanol and corn syrup derailed and caught fire early Thursday, but authorities were hopeful that the quick response and cold weather would help limit the impact of this latest crash.
Still, those pushing to improve rail safety said the derailment only added urgency to the debate over reforms that Congress and regulators are considering, even as officials seemed to apply some of the lessons learned after last month's fiery derailment near East Palestine, Ohio.
Minnesota officials said the BNSF train derailed around 1 a.m. in Raymond, roughly 100 miles (161 kilometers) west of Minneapolis. That prompted the evacuation of essentially all of the town's 250 homes because they were within 1/2 mile (0.8 kilometers) of the derailment. The evacuation order was lifted around noon.
The nation has been increasingly focused on railroad safety since the Feb. 3 Norfolk Southern derailment that prompted several thousand evacuations in and around East Palestine near the Ohio-Pennsylvania border. Residents in that town of about 5,000 remain concerned about lingering health impacts after officials decided to release and burn toxic chemicals to prevent a tank car explosion. State and federal officials maintain that no harmful levels of toxic chemicals have been found in the air or water, but residents remain uneasy.
The major freight railroads have said they plan to add about 1,000 more trackside detectors nationwide to help spot equipment problems, but federal regulators and members of Congress have proposed additional reforms they want the railroads to make. A group of Ohio Representatives said at a news conference Thursday about their rail safety legislation that the Minnesota derailment reinforces the need for reform.
**ORIGINAL STORY BELOW**
RAYMOND, Minn. (FOX9) – More than a dozen rail cars on a BNSF train derailed near Raymond, Minnesota, early Thursday, with several derailed tankers starting on fire.
BNSF told FOX 9 approximately 22 rail cars derailed at 1:02 a.m. The Kandiyohi County Sheriff's Office says the train was carrying ethanol and corn syrup liquid. Numerous rail cars were engulfed in flames.
The EPA Great Lakes tweeted four cars containing ethanol, which is a highly flammable product, ruptured, caught fire and continue to burn.
No injuries have been reported. The cause of the derailment is under investigation.
The area within a half-mile of the derailment has been evacuated to nearby Prinsburg, Minnesota.
No travel is advised in the area. Highway 23 is closed in Raymond until further notice, according to MnDOT.
The EPA is providing air monitoring at and around the site, as well as throughout the community, the agency tweeted.
Minnesota Gov. Tim Walz and state emergency management leaders traveled to Raymond to visit where the train derailed. The governor, who was briefed by United States Department of Transportation Secretary Pete Buttigieg, also met with residents.
"FRA is on the ground after a BNSF train carrying ethanol derailed early this morning, leading to an evacuation in the area of Raymond, MN. At present no injuries or fatalities have been reported. We are tracking closely as more details emerge and will be involved in investigation," Buttigieg tweeted.