48 cats removed from south Fargo hotel room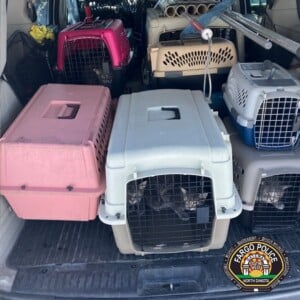 FARGO (KVRR-KFGO) – A Fargo Community Service Officer and Homeward Animal Shelter staff worked together to remove dozens of cats from a south Fargo hotel room Thursday morning.
According to the police, a call came in related to an animal control concern in the 1300 block of 21st Ave. S. Hotel management told the officers an elderly couple living in one of the rooms was hoarding cats and they believed there were around 20 cats in the room. Management wanted the couple to leave immediately.
Baymont Inn management and the officers decided to let the cats stay overnight to make arrangements to have the cats safely removed by animal control.
When the Community Service Officer and shelter staff entered the room Thursday morning, they began placing the cats in crates. They quickly determined there were many more than 20 cats and needed additional resources.
Police said, after several hours, 48 cats were removed from the room and taken to the pound. The cats were checked by a veterinarian.
Several shelters will work to help find homes for the cats.