North Dakota House overrides veto of bill to ban approval voting, now goes to Senate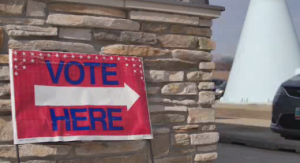 BISMARCK, N.D. (KVRR-Prairie Public) – The North Dakota House has voted to override Governor Burgum's veto of a bill to prevent local governments from adopting "approval voting" or "ranked choice voting" for local elections.
Fargo voters adopted "approval voting" for local elections. It was done by a citizen initiative, under the city's home rule charter.
Voters are allowed to cast ballots for more than one candidate. The person who receives the most votes is elected.
Fargo Democratic Representative LaurieBeth Hager urged her colleagues to uphold the veto.
"I don't think that any one of us in the room has the right to take away the home rule charter and how Fargo, North Dakota wants to elect their local representatives. I don't think that us in Fargo should be telling you…how your voting methods should be."
House Majority Leader Mike Lefor of Dickinson urged that the veto be overridden.
"The legislature properly exercised its authority to regulate the way elections are conducted. It's such a broad departure from how the majority of the state conducts its elections. It's a matter of statewide concern."
The override needs a two-thirds vote in each chamber. The House vote was 71 to 17. The state Senate will also take up the veto.