More People Are Flying Fargo: Hector Has Record-Setting Month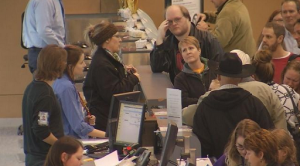 FARGO, N.D. (KVRR) — The high number of people flying in and out of Fargo has helped Hector International Airport set a record.
The airport reports that 98,376 passengers arrived or departed from Hector in March.
That is a record for the airport.
The previous record for passengers was set in December 2019, before the start of the pandemic, with around 89,000 people.
Delta, United, American and Allegiant all offer flights through Hector.