Burgum signs bill limiting trans health care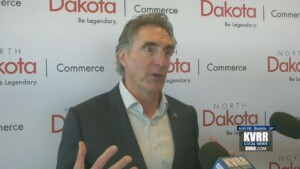 BISMARCK, N.D. (KVRR) – North Dakota Gov. Doug Burgum has signed a bill into law that imposes strict restrictions on transgender health care and certain types of gender-affirming care to people younger than 18.
Gender-affirming care for minors has been available in the U.S. for more than a decade, but it has increasingly come under scrutiny in many conservative legislatures.
The measure that Burgum signed received veto-proof support from GOP lawmakers, although some Republicans did vote against it, alongside all Democrats.
The new law takes immediate effect and allows prosecutors to charge a health care provider with a felony — up to 10 years in prison and $20,000 in fines — for performing sex reassignment surgery on a minor.
It also enables prosecutors to charge a provider with a misdemeanor — up to 360 days in prison and $3,000 in fines — for giving gender-affirming medication, like puberty blockers, to a trans child.
There are a few exceptions.
With consent from the child's parent or guardian, a health care provider could give gender-affirming care if the child was born with "external biological sex characteristics that are irresolvably ambiguous," or if a physician determines through genetic testing that the child does not have a "normal sex chromosome structure for a male or female," the law says.
If a health care provider began giving gender-affirming care to a child before the bill became law, then the provider would be exempt in that specific case.