John's Repair to Close May 31 After Fight with City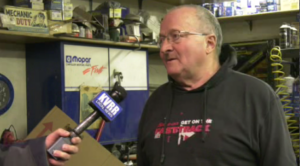 FARGO, N.D. (KVRR) — After a long battle with the City of Fargo John Bultman, owner of John's Repair, will be shutting his doors at the end of the month.
Bultman has been running John's repair for more than 40 years.
Bultman says he has dealt with harassment from the city and conditions of the new agreement included so many little problems that he has just decided to close.
He says, "Well with all the stuff going on, because I had court action with the people that robbed from me two years ago, and then the collapsing of a 40 by 100 building, and then starting up all this harassment like they would come and take pictures and cite me for any little thing."
The city says Bultman's property received complaints in 2003 due to expanded and intense use of his property, violating his permission to continue operating since 1984.
The city says the grandfathered status was no longer in effect and claimed that when Bultman recently sold the property, the special status was revoked.
The robberies mentioned by Bultman were burglaries at another property he owns in Clay County, where a building collapsed under the weight of heavy snow.