4th of July Events In The Metro
There are plenty of ways you can celebrate Independence Day with your community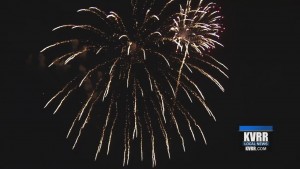 FARGO, N.D. (KVRR) – There are plenty of ways you can celebrate Independence Day with your community. We've got 4th of July events all day and night in the Metro.
Bonanzaville's 4th of July celebration runs from 10 a.m. through 7 p.m. with fireworks after that starting at dusk.
There will be pony rides, inflatables, food vendors and a bunch of other stuff.
Drekker Brewing is hosting an event called "'Merica: We The (Party) People".
That's from noon to 5:00 at their Brewhalla location.
They'll also have inflatables for the kids, and presumably more beer than Bonanzaville for the adults.
You can also enjoy our national past time this Independence Day.
The Fargo-Moorhead RedHawks are playing an afternoon game against the Milwaukee Milkmen at 2 p.m.
Then, Moorhead is hosting its 49th annual 4th of July fireworks show.
The fireworks start at 10:25 p.m. and go for about a half hour.
They are shooting them off at Horizon Shores Park at 3801 24th Ave. S., but the entire park is part of the blast zone so they're closing it off.
They say you should be able to see the fireworks from almost anywhere in Moorhead.