Fire Breaks Out On Roof Of Prairie Public Building In Downtown Fargo
Firefighters responded to a roof fire at Prairie Public Broadcasting in downtown Fargo shortly before 1:30 Friday morning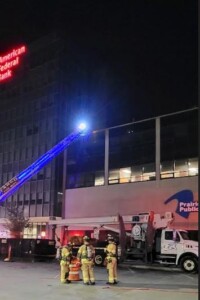 FARGO, N.D. (KFGO/KVRR) – Firefighters responded to a roof fire at Prairie Public Broadcasting in downtown Fargo shortly before 1:30 Friday morning.
Battalion Chief Dane Carley tells KFGO News someone in a neighboring building reported they could see flames on the roof of what appeared to be the American Federal Bank. When crews arrived, they could see the fire was actually atop the adjacent Prairie Public building.
Carley said it was clear some type of work had been done on the roof and a large air handling unit was on fire. He compared the fire to the size of a burning vehicle. Using a ladder truck, crews were able to knock down the fire. There was some limited water seepage through the roof into the upper section of the building and there was also some smoke inside. Tarps were used to cover and protect equipment in parts of the building.
The cause is under investigation.