Montreal woman sentenced to 23 years in prison for drug trafficking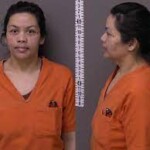 FARGO, N.D. (KVRR/KFGO) – A Montreal woman has been sentenced by a federal judge in Fargo to 23 years in prison for her part in an international drug trafficking case which was run by a man in a medium security prison in Quebec, Canada.
U.S. District Judge Peter Welte sentenced Marie Um, who was convicted in April after a two-week trial, and more than three days of jury deliberation.
Four deaths and five non-fatal overdose deaths were linked to her actions.
The case was part of what federal prosecutors called "Operation Denial." The investigation began after the 2015 fentanyl overdose death of 18-year-old Bailey Henke in Grand Forks.
31 people were charged in North Dakota along with three others in Oregon.
There is a $5 million reward for information that leads to the arrest and conviction of a Chinese national who is believed to be the leader of the transnational drug enterprise.