Outdoor Skating Rinks Open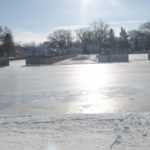 Lace up your skates and break out your hockey sticks.
The Roosevelt Park and Clara Barton outdoor skating rinks open for the season.
The rinks were scheduled to open on Saturday, but it was too cold.
The two locations have heated warming houses with restrooms and seating spaces.
The rinks are free to use at any time.
The heated rooms however have certain hours.
You can stay updated on openings and hours for all skating locations by clicking here.