North Dakota Senators Remember Slain Deputy
Senators John Hoeven and Heidi Heitkamp reach out to Deputy Allery's family, friends and the law enforcement community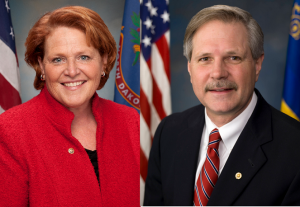 Both U.S. Senators from North Dakota took to the floor of the Senate to pay tribute to Deputy Colt Allery.
Senators Heidi Heitkamp and John Hoeven also commended law enforcement for their work to keep the state's families safe.
"I know this is an incredibly tough time for Rolette County Sheriff Medrud and his deputies right now as well," said Senator Heitkamp. "And I know that I and the people across the state of North Dakota have your back in this difficult time."
"His colleagues remember him for his friendly and positive disposition and his commitment to making his community and our state safer," said Senator Hoeven.
The senators offered condolences to Allery's family, friends and co-workers.