NTSB Determines Axle Failure Caused Casselton Derailment (Video)
NTSB Chairman Christopher Hart says investigators determined that a broken axle from the derailment was caused by a "manufacturing defect."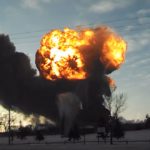 WASHINGTON – The National Transportation Safety Board has released video taken from the locomotive of an oil train that collided with a derailed grain train near Casselton, ND in Dec. 2013.
The NTSB is holding a hearing today to announce the cause of the derailment and to recommend changes in how train components are inspected.
NTSB Chairman Christopher Hart says investigators determined that a broken axle from the derailment was caused by a "manufacturing defect."