"The Biggest Loser" Trainer, Bob Harper, Recovering from Heart Attack
Heart disease is the number one killer of men and women and it can hit anyone at any time, regardless of a "healthy lifestyle"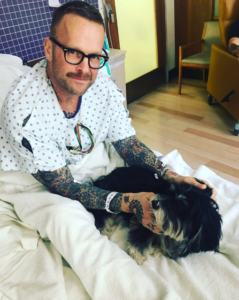 NEW YORK CITY — Bob Harper, one of the beloved personal trainers of NBC's hit show "The Biggest Loser" reported just hours ago he is recovering from a heart attack.
Harper tweeted a picture of himself at the hospital with the following message:
As you've heard, I had a heart attack 2 weeks ago. I'm on the mend now & want to thank everyone for the outpouring of messages and support.
Harper, who is 51 years old, said he was working out at a gym in New York City in early February when he collapsed.
One of the people working out nearby happened to be a doctor, who gave Harper CPR and used an AED, is being credited with helping save his life.
Harper was hospitalized for eight days and says he is recovering.
The personal trainer is best known for helping thousands of people all over the world through his tough and encouraging ways on "The Biggest Loser", where he tries to help those who are struggling build healthy lifestyles.
He said heart disease runs in his family and his mother died of a heart attack.
February is National Heart Month and a time of the year that the American Heart Association pushes for heart health awareness.
Heart disease is the number one killer of men and women.
In fact, even if you lead a healthy lifestyle, you can still be at risk for heart disease through other factors like blood pressure, cholesterol and other lifestyle choices like smoking.
It's also important to point out that 64 percent of women who die from heart disease don't show symptoms or don't recognize the symptoms their body is sending them.
Men will often times experience shortness of breath and/or extreme chest pain, but women are more likely to experience pain in the back or jaw as well as dizziness, becoming lightheaded, or becoming overly tired.
KVRR, along with Essentia Health, shared with you Lynette's Story, about a Page, North Dakota woman who works in the health care industry who suffered a heart attack for several days and didn't know it.
If you would like to know more information on the hidden signs of heart disease and what you can do to take steps towards preventing it, click here.