Fargo Police Are Searching For A Man Who Robbed A Liquor Store
One man got away after he robbed Stamart Liquor Mart at gunpoint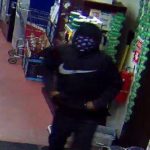 Police are searching for the suspect who held up a north Fargo liquor store.
The armed robbery happened Saturday night.
Around 8:45 last night, Fargo Police responded to Stamart Liquor Mart on 12th Avenue North for a reported robbery.
"What we knew was a black male wearing a black hoodie with a blue face mask. Came in, brandished a weapon, demanded cash and quickly left," said Sergeant Mark Lykken with the Fargo Police Department.
The suspect was also described as being five foot eight, weighing 135-145 pounds.
Although, no shots were fired, the store worker told police the man was carrying two pistols, one in each hand.
"It happened very fast. The clerk complied with the demands and gave the money and nobody was hurt thankfully," said Sgt. Lykken.
After taking the money, the suspect allegedly fled away in a small, dark colored sedan before the police arrived on scene.
Oddly enough police say thieves like these are willing to risk it all and pay the price if they're caught solely for a wad of cash.
"One thing about these stores that are targeted, most of them have drop safes. For the people who rob these stores, they're willing to spend some significant time in prison," said Sgt. Lykken.
Sgt. Lykken also says in any situation where a person is armed, it's best to stay back, even if it's tempting to play the hero.
"If you shop there, what we'd ask is that if this happens you just be a good witness, don't intervene. We more than often solve these cases," said Sgt. Lykken.
And as for employees, Sgt. Lykken says it's always best to be prepared for the worst.
"If you work at a convenience store or a liquor store, you should have a plan in mind if you are held up," said Sgt. Lykken.
According to police, this was the first time the north Fargo Stamart Liquor Mart has been robbed.
The investigation is ongoing.
So far, no arrests have been made.
If you have any information, contact the Fargo Police Department.