One Death, Two Injuries After Early Morning Fire In Moorhead
The body of the male victim will be sent to the Ramsey County Medical Examiner in St. Paul.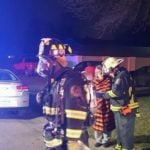 An elderly man was found dead after an early morning fire in a north Moorhead duplex.
Assistant Fire Chief Jeff Wallin says the body of the victim will be sent to the Ramsey County Medical Examiner.
Wallin doesn't know the condition of two women who were taken from the scene by ambulance to a Fargo hospital.
They were suffering from the affects of smoke.
Firefighters were called to 2424 Country Club Parkway around 1:40 a.m. this morning.
The duplex is near the American Crystal Sugar Plant.
The State Fire Marshal's office, Bureau of Criminal Apprehension and Federal Bureau of Alcohol, Tobacco Firearms and Explosives have joined the investigation.
  Moorhead Fire Officials released the following statement:
 At 1:40 am on April 14, 2017, the Moorhead Fire Department was dispatched to a fire at 2424 Country Club Parkway in Moorhead. The structure is a duplex that includes the address of 2422 Country Club Parkway.

Crews arrived to find fire involving most of the main floor of 2424 Country Club Parkway. Two adult females exited the structure prior to Fire Department arrival and occupants of 2422 Country Club Parkway self-evacuated. The bulk of the fire was extinguished by 2:13 am; however, additional extinguishment and investigation activities occurred until the scene was turned over to investigators at 4:59 am. The two adult female occupants of the home were treated and transported by F-M Ambulance to Sanford Hospital. Their condition is unknown at this time. During a search of the structure, a deceased adult male victim was also discovered in the home. The cause of his death is currently under investigation. Fargo Fire, Moorhead Police, F-M Ambulance, the Salvation Army and Red Cross provided additional assistance. The cause of the fire remains under investigation.
Investigators from the Moorhead Fire Department, Moorhead Police Department, Minnesota State Fire Marshal Division, MN Bureau of Criminal Apprehension and the Bureau of Alcohol Tobacco and Firearms are investigating the incident.
An autopsy will be requested through the Ramsey County Medical Examiners Office. More information will be released as the investigation allows, including the victim's name, after positive identification is established.