Session Time Ticking as ND Lawmakers Rush to Finish in Time
This is day 72, and lawmakers may meet Saturday as they work to resolve remaining bills and agree on a budget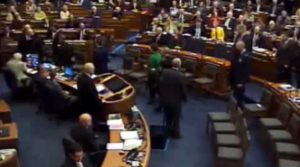 BISMARCK, N.D. — The North Dakota Legislature is racing to finish its work five days before the constitutional 80-day limit.
This is day 72, and lawmakers may meet Saturday as they work to resolve remaining bills and agree on a budget.
The session opened in January with more than 800 measures.
Senate Majority Leader Rich Wardner says there were 33 bills awaiting action this morning.
Lawmakers had hoped to be finished in 70 days to give themselves a cushion if they need to react to any continuing declines in state revenue or federal policy changes.