Three Hurt After Vehicle Hydroplanes Along Interstate 94
Driver Had Cruise Control On When He Encountered Heavy Rain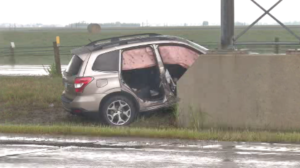 WEST FARGO, N.D. — Three people were taken to Sanford after a driver hydroplaned on I-94 and hit an overhead sign support in the median.
The North Dakota Highway Patrol says 71-year-old Alvin Jorgensen of Hope lost control about a quarter mile west of West Fargo just before 5 o'clock.
He had his cruise control on at about 75 miles per hour when he encountered heavy rain.
Jorgensen along with 54-year-old Josephine Jorgensen, also of Hope, and 77-year-old Ruth Berger of Valley City, were taken to the hospital with injuries.
All three were wearing their seat belts.