Final Member of the Happy Hooligans Returns Home
Special Master Sgt. Susan Schroeder returns after six-month deployment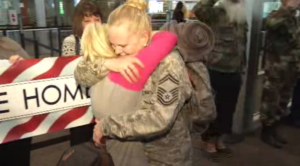 FARGO, N.D. — The final member of the Happy Hooligans group deployed overseas has returned home to Fargo.
Special Master Sergeant Susan Schroeder was greeted by family and her fellow Happy Hooligans at Hector International Airport.
Schroeder spent the last six months on deployment in Southwest Asia as a communications flight superintendent.
With several hugs from her family and friends, Schroeder says she was happy to do her part to serve her country.
"It was a wonderful opportunity for me to go over and serve my country. This is something that I raised my hand, and I said I would protect my country and participate in any way I could," said Schroeder.
Schroeder was one of nearly 150 Happy Hooligans to serve during the 2017 Air Expeditionary Force deployment cycle.
The group was the largest to be deployed from Fargo since the Korean War