Mayors And City Engineers Update Community On F-M Diversion Project
The FMWF Chamber Hosts Their Monthly Eggs And Issues Event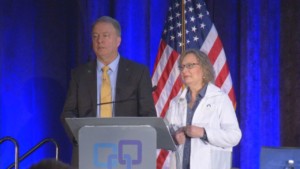 The F–M Diversion was the topic of discussion at this month's Eggs & Issues hosted by the Fargo Moorhead West Fargo Chamber.
Mayor Tim Mahoney of Fargo and Mayor Williams of Moorhead along with city engineers addressed the status of the flood protection project and took questions from the community.
Both mayors said that the task force was very beneficial in clearing up some communication problems they have had in the past and has helped things march forward.
"It refocused everything in the project. Out of that came about six different solutions that they gave out, that they thought we should do and we really just have to figure out the alignment at this point. So if we can figure out the alignment then we'll be ready to go," Said Fargo Mayor Tim Mahoney.
Mayor Mahoney went on to say he hopes the injunction will be lifted by spring to continue work on the project.