Snow And Slush Covered Roads Were Too Much For MATBUS
All Routes Were Called Off by 10:45 a.m. Monday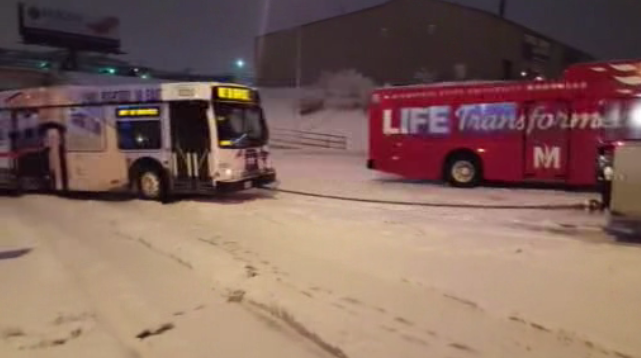 FARGO, N.D. — MATBUS found itself in a mess this morning in south Fargo.
Three buses couldn't make it up the small incline at the underpass at 25th Street South and Main Avenue.
"They are burning rubber and it smells here but they're trying to get these big buses going here but it's created quite a traffic jam here south bound," said KFGO's Don Haney while he reported on the stalled buses.
They needed a little help, but didn't seem to be moving very far or very fast.
At 10:45 Monday morning, MATBUS decided enough was enough and called off all routes and Paratransit services for the day.
The Ground Transportation Center and the Metro Transit Garage closed about 45 minutes later.