MN Congressman Keith Ellison Files to Run for AG, Shakes Up DFL Primary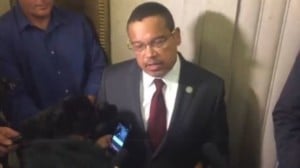 ST. PAUL, Minn. (KMSP) – U.S. Rep. Keith Ellison is not seeking reelection to his congressional seat, but will instead run for Minnesota Attorney General. He filed to run on Tuesday afternoon.
The deadline to file to run for state office is 5 p.m. on Tuesday. Ellison's decision to run for attorney general is one of several late entries that will shake-up the DFL primary in August.
Current Attorney General Lori Swanson is not seeking reelection. She filed to run for governor along with running mate U.S. Rep. Rick Nolan after failing to secure the DFL endorsement at the state convention last weekend.
Matt Pelikan is the DFL-endorsed candidate. He also filed to run on Tuesday, along with fellow Democrats Rep. Debra Hilstrom and former Attorney General Mike Hatch. Hatch told Fox 9 he is not running for sure, but will wait to see who else files by the 5 p.m. deadline.
Ellison withdrew his previous filing for Minnesota's fifth congressional district and filed to run for attorney general on Tuesday afternoon.
Ellison's departure from Congress leaves his seat open. State Sen. Patricia Torres Ray is currently the only Democrat running in the primary, but that is expected to change by the filing deadline.