Teen Escapes From Car After Driving Into Sinkhole Near Redwood Falls
Jaxon Lang Has only had his license for about a month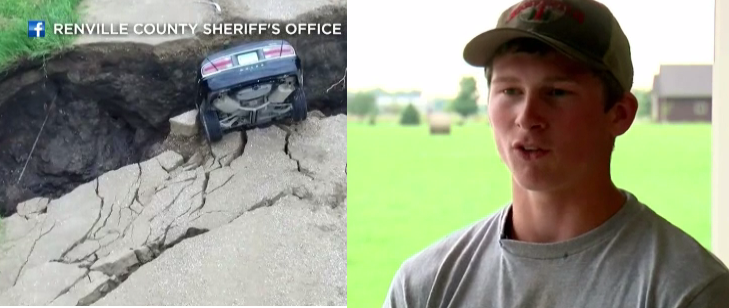 REDWOOD FALLS, Minn. — A 16-year-old boy is safe and sound after driving straight into a sinkhole in Redwood Falls, Minnesota.
Jaxon Lang drove straight into a sinkhole he didn't see coming after heavy rains washed out the road.
Lang had to climb out the car's back window to escape.
Police say the sinkhole opened up after a culvert beneath the road was washed out.
Lang wasn't hurt, thanks to his seat belt and airbag.
He's only had his license for about a month.
"I seen the hole probably 30 yards big, but it didn't have that much time but it didn't look that big because I was pretty low in the car so I thought maybe it was branch or something," Lang said.
"And I got closer and I had the breaks on cause I thought something was in the road.  Then I slammed on the breaks and the car just slid into the hole and then hit the other side and fell down."
Lang said, "Kind of sucks because I don't have a car anymore, could be worse."
Lang's grandmother said the teen had been driving to work at a farm near Redwood Falls.
Flooded roads, yards and rivers were reported across the region.