Energy Secretary Tours North Dakota's Falkirk Coal Mine
Rick Perry praised the highly skilled workers at the mine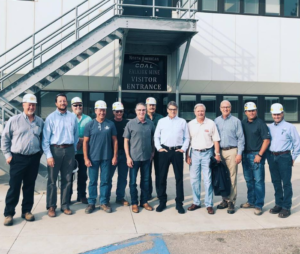 UNDERWOOD, N.D. — Energy Secretary Rick Perry praised the highly skilled workers at North Dakota's Falkirk coal mine, one of the largest surface coal mines in the country.
Perry posted this picture to his Facebook page of his tour of Falkirk with Governor Doug Burgum, Senator John Hoeven and Representative Kevin Cramer.
Hoeven invited the secretary to the state to learn firsthand about breakthrough energy developments occurring in North Dakota.
Perry also toured Great River Energy's Coal Creek Station and held a roundtable with the state's energy leaders.
The visit also brought attention to two project's being undertaken by UND's Energy and Environmental Research Center: Project Tundra, a post-combustion technology to retrofit existing power plants, and the Allam Cycle, technology for new coal and natural gas power plants that uses supercritical CO2 to increase efficiency and allow emissions to be captured.