Amy Klobuchar & Jim Newberger Face Off in MN Senate Race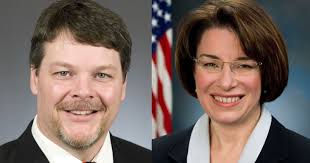 Democratic Sen. Amy Klobuchar will face GOP State Rep. Jim Newberger of Becker in the race for Senate in the November election.
Klobuchar is one of Minnesota's most popular politicians, winning her first two terms by at least 20 percentage points. She has been mentioned as a possible presidential candidate in 2020.
Newberger, a paramedic beat three other candidates Tuesday. He has served three terms in the state legislature.