Williston Apartment Fire Under Investigation
An estimated 70 people lived in the building.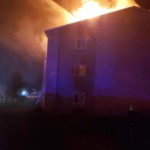 WILLISTON, ND (KEYZ) – Williston Firefighters remain at the scene of an apartment fire where dozens were made homeless.
An estimated 70 people lived in the building.
The first alarm went out around 2:45 a.m. Thursday.
Flames were already through the roof of the three-story apartment building, and moving from apartment by apartment driven by strong westerly winds, said Chief Jason Catrambone.
"We did have some wind last night and it carried it through that attic space, which is the only part of these buildings that isn't sprinkled.
So there wasn't a sprinkler system in the attic so it didn't have anything to stop it.
Our crews immediately went up and started with interior attacks, as well as using our aerial devices to try and control it and contain it," said Catrambone.
While nearly 40 firefighters from Williston city and rural departments fought back flames.
The Red Cross is assisting displaced residents with temporary shelter and other immedidate needs.
 The cause in under investigation