Two People Killed In Two Separate ATV Crashes, One Involves An Arrest
Crashes Killed A 72-Year-Old Man And A Mother Of Seven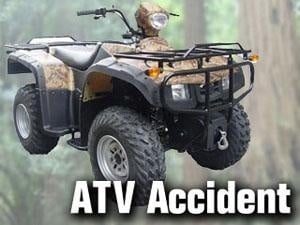 A Twin Valley man is dead after an ATV crash in Norman County.
Minnesota State Patrol says 72-year-old Allan Boreen was on an ATV when he failed to yield and was hit by a pickup while crossing Highway 113.
The crash happened just after 11 Monday morning in Flom Township.
The driver of the pickup, 52-year-old Danny Guenther of Mahnomen, was not hurt.
A mother of 7 is dead and an ATV driver charged with drunk driving after a crash Saturday east of Little Falls, Minnesota.
Emergency responders say Karla Scheel was pinned under the ATV on the Soo-Line Trail in Pierz Township.
They pronounced her dead at the scene.
Eric Scholl was charged Monday of being drunk when he crashed the ATV.
A sheriff's deputy says Scholl smelled of alcohol, was unsteady on his feet and had bloodshot and watery eyes.
Another passenger in the ATV group told authorities that they had been drinking at a bar before they left together.