Former VP Joe Biden To Campaign With Sen. Heitkamp in Fargo Next Week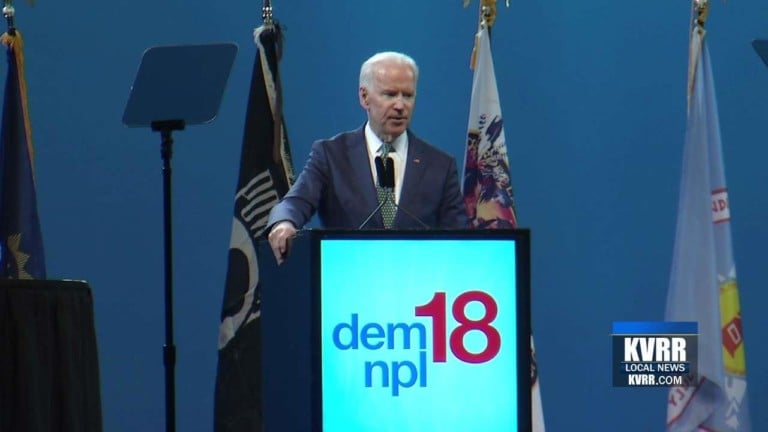 FARGO, N.D. – Former Vice President Joe Biden is coming to Fargo next week to kick off the Bring It Home For Heidi tour for Senator Heidi Heitkamp.
The Democrats will hold a rally at the Fargo Air Museum at 11:00 on November 1st.
The tour will stop in 19 different North Dakota cities over five days.
"Growing up with a big family in the small, working-class town of Mantador, Heidi learned the values that make North Dakota special and make America the greatest country in the world – the dignity that comes with a hard day's work, respect for our veterans and the need to lend a helping hand to our neighbors. As North Dakota's senator, Heidi's never forgotten where she comes from – she's a tireless voice for rural America and a dogged advocate for North Dakota. Heidi is the real deal – she stands up to both parties to do what's right by the people she serves, and I hope you'll help get out the vote and send her back to be North Dakota's independent voice in the U.S. Senate," Biden said.
"Vice President Biden is a true champion for working people and we're so proud to have him kick off our statewide bus tour. This race comes down to who'll stand with North Dakota rather than a political party – and in the Senate, I've only answered to the people of North Dakota. While Kevin Cramer has pledged to follow Mitch McConnell's lead to cut Social Security and Medicare and undermine pre-existing conditions, I won't stand for that. North Dakota deserves an independent voice focused on getting results – from lifting the decades-old ban on oil exports to cracking down on human trafficking, that's what I've done as your senator," Heitkamp said.
This will be the second time Biden has visited North Dakota this year as he was the keynote speaker at the Democrat NPL Party's convention in Grand Forks.
For more information on the Bring It Home For Heidi tour, click here.