Big Night For Kevin Cramer, Kelly Armstrong, Amy Klobuchar, Tina Smith and Tim Walz
Cramer Defeats U.S. Senator Heidi Heitkamp, Klobuchar and Smith Have Easy Wins Over Republican Challengers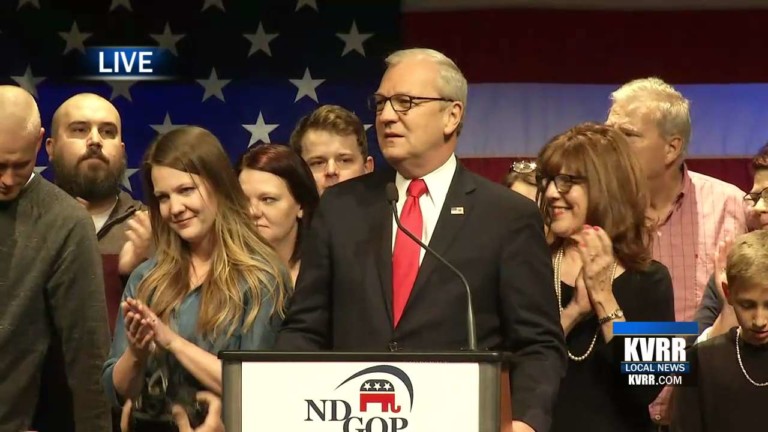 BISMARCK, ND — Rep. Kevin Cramer, a three-term congressman, is heading to the U.S. Senate.
Cramer defeated Democratic U.S. Sen. Heidi Heitkamp in a race that was close before Heitkamp's decision not to vote for President Donald Trump's U.S. Supreme Court nominee, Brett Kavanaugh.
Cramer won by double-digits over Heitkamp and says he decided to get in the race after an abortion ban failed to advance in the Senate and after President Trump encouraged him to run.
Kelly Armstrong sailed to victory over his Democratic challenger, Mac Schneider.
He'll replace Cramer in the U.S. House in January.
Democratic Sen. Amy Klobuchar easily won a third term in Minnesota.
Klobuchar defeated Republican state Rep. Jim Newberger on Tuesday.
It comes as Klobuchar's name swirls amid the crop of potential Democratic presidential candidates for 2020.
Democratic Sen. Tina Smith says she's humbled by the Minnesota voters who elected her to fill out former Sen. Al Franken's term.
Smith defeated Republican state Sen. Karin Housley in Tuesday's special election. The race was triggered by Franken's resignation in January amid a growing sexual misconduct scandal.
Smith would have to face voters again in 2020 if she runs for re-election.
Tim Walz says his election as Minnesota's governor and high voter turnout is proof that the state's "can-do spirit" is alive and well.
Walz defeated second-time Republican candidate Jeff Johnson on Tuesday. Democratic Gov. Mark Dayton chose not to run for a third term.
Walz was the favorite throughout the race, but his victory was still unusual. It marks the first time one of Minnesota's political parties has held on to the office for three or more terms since the 1950s.