Early Morning Fire At South Fargo Restaurant
Firefighters had to break down the door to gain access and found a fire in one of the commercial kitchen ovens and were able to quickly extinguish the flames.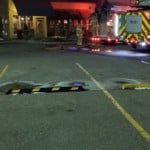 FARGO, N.D. Doolittles Woodfire and Grill is back up and running after a small set back from an oven fire on Thursday.
Around 2:30 am, the Fargo Fire Department responded to a small fire in a commercial oven after the alarm was set off. Firefighters broke down one door to get inside and were able to quickly extinguish the fire. No one was in the building at the time.
The restaurant manager and the regional manager say they feel fortunate with how the damage was contained.
"We're super fortunate that it was contained also probably most fortunate that nobody was here the best thing I can say is that nobody got hurt but fortunate that we were able to get some people out to get it cleaned up," Regional Manager Darin DeVoer.
The restaurant was closed for lunch.
The estimated cost of the damage is about $5,000.