Democrats Condemning Anti-Semitism In Wake Of Comments By Minnesota Congresswoman
FBI Also Investigating Threat Directed At Democrat Rep. Ilhan Omar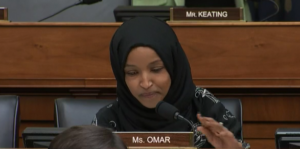 WASHINGTON, D.C. — House Democrats will offer a resolution Wednesday condemning anti-Semitism in response to Minnesota Rep. Ilhan Omar's latest remarks on Israel.
The declaration, supported by Speaker Nancy Pelosi, comes after Omar made new remarks about Israel that critics are calling anti-Semitic.
Meanwhile, the FBI and other law enforcement agencies are looking into a report of a threatening graffiti message directed at her.
She retweeted a photo showing the words "Assassinate Ilhan Omar" which was posted to Instagram on February 22.
The man who posted the photo wrote that he saw it written on a stall in the men's room at a Holiday gas station in Rogers.