COVID-19 cases surge at federal death row prison in Indiana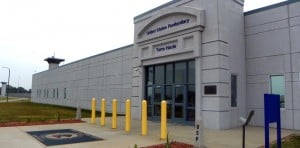 TERRE HAUTE, Ind. (KVRR) – The federal prison where Alfonso Rodriguez Jr. remains on death row has more COVID-19 cases than any other federal prison in the nation.
According to the Federal Bureau of Prisons, there are currently 410 inmates and 3 staff members with confirmed active COVID-19 cases at the U.S. Penitentiary at Terre Haute, Ind.
The Terre Haute facility houses all inmates awaiting federal execution.
There's no official word on how many inmates in the prison's Special Confinement Unit, where death row inmates are held, have tested positive for COVID-19.
But Madeline S. Cohen, an attorney who represents two death row inmates who caught the virus, tells KVRR that her clients informed her that around 28 or 29 of the approximately 52 inmates on death row tested positive.
Cohen says she believes the virus is being spread by a combination of outsiders coming into the prison and a poor ventilation system.
Privacy laws prevent the prison from disclosing the names of specific inmates who tested positive.  Rodriguez's attorneys did not immediately respond to a request for comment.
Rodriguez was sentenced to death in 2006 for the kidnapping and murder of Dru Sjodin.
The Bureau of Prisons says 230 inmates and 10 staff at USP Terre Haute have recovered from the virus.