Major Progress Made on Amazon Fulfillment Center in North Fargo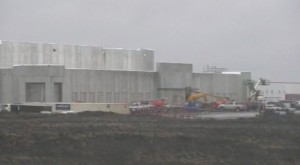 FARGO, N.D. (KFGO) — It's been more than seven months since construction started on the massive Amazon Fulfillment Center north of Hector International Airport in Fargo.
A union leader says progress is moving ahead at a rapid pace.
The earliest completion date is set for August.
Jason Ehlert, president of the North Dakota Building Trades Unions, says structural steel, pre-cast walls, and roofing are nearing completion.
Work is underway on pouring 1300 yards of concrete daily for the interior floor.
Elhert says there are about 150 union construction workers on site now.
The $100-$120 million dollar distribution center is considered the largest building built in North Dakota.
Nineteen football fields would fit inside.
The company is planning to hire 500 full-time employees.
Amazon has not yet announced when hiring will begin.