Duane's House of Pizza closes its Moorhead restaurant
A Facebook post says staffing shortages are to blame for the closure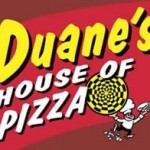 MOORHEAD, Minn. (KVRR) — After decades of serving up pies, Duane's House of Pizza has closed its Moorhead location.
"It's my wife and I's favorite pizza. It definitely has that local and unique taste," Duane's customer Jordan Johnson said.
After serving the community for 64 years, Duane's House of Pizza has closed its Moorhead location. The business made the announcement on Facebook saying in part, "We are permanently closing our Moorhead location due to continued staffing shortages."
One loyal customer who drives 75 miles for Duane's is saddened by the loss of a location she has always known.
"I grew up going to Duane's for all of my birthday parties when I was a little kid. It was iconic for us. That was at the old Moorhead location. Now they got their new one, but really sad to hear it's closing, so my husband said you better go get some pizza from Duane's and I went over there and nobody was there. They're already closed," Duane's Customer Crystal Adams said.
The pizza shop is only available at its University Drive and 45th Street South locations in Fargo. However, they won't be able to deliver to Moorhead. The restaurant says it doesn't have the necessary permits from the City of Fargo to do so.
Facebook customers say "I'm sure you're going to be missed by many people." "End of an era." "Duane's was always the best pizza in Moorhead."
"There's a lot of staffing shortages right now with everything that has been going on, so it's hard to see what's going to happen. I hear a lot of different restaurants and a lot of different businesses are really struggling to find workers," Adams said.
Customers have shown they are not shying away from the pizza shop but continuing to show their support.
"Main thing it made me and got me the idea that I have to come out here and help out a little more that's why I'm here," Johnson said.
Duane's will continue to offer dine-in, carryout, and delivery services at its Fargo locations.