Two Fargo fires caused by arson were not related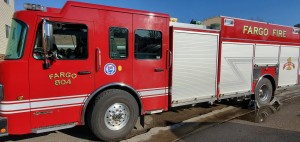 FARGO (KVRR) – Fargo Fire Marshal Ryan Erickson says a fire at an apartment building in north Fargo earlier this month was intentionally set.
Firefighters were able to quickly put it out, containing the fire to the front porch. The May 10th fire triggered both alarms inside the multi-unit building.
Erickson says the fire caused $20,000 in damage.  There were no injuries.
A second fire on May 10th was also intentionally set, but there is no indication the fires are related.
A building on the lot at 1420 2nd Avenue South in Fargo was set ablaze. Damage is estimated at $16,000.
No arrests have been made in either cases of arson.
Improperly discarded smoking materials are to blame for a deck fire in south Fargo.
The fire was reported on May 11th at 6126 24th St. S. on a rear deck of a house. Damage is estimated at $105,000.