SUV rolls near apartment building in south Fargo
TWO PEOPLE SUFFERED NON-LIFE-THREATENING INJURIES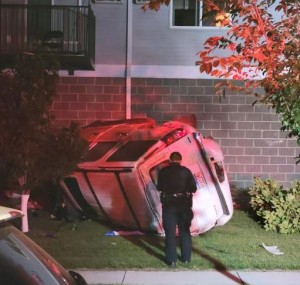 FARGO (KVRR) – Fargo police are investigating a single-vehicle crash.
Police and fire crews responded shortly before 2:00 a.m. to the Nest apartments on the 1700 block of 35th Street South.
There they found an SUV rolled over on its side, up against the building with heavy damage. Several wheels were off, and there was debris outside of the truck.
It appears the vehicle was southbound on the street, veered off the roadway, across a yard, and took out a power box in front of the apartment building.
Police say the driver and passenger suffered non-life-threatening injuries.