Jeff Wallin unanimously confirmed as Moorhead Fire Chief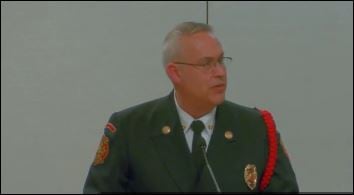 MOORHEAD, Minn. (KVRR) – Jeff Wallin is named chief of the Moorhead Fire Department.
Wallin was nominated by City Manager Dan Mahli and unanimously confirmed by the City Council. Council Member Deb White abstained since her son is engaged to Wallin's niece.
Wallin took over as interim chief since Rich Dysen stepped down in 2021.
"I have similarly dedicated my life to public service and to this department. I've had the pleasure of working over the last 28 years working with four of our previous fire chiefs and it is my honor to accept this role as the 10th chief," Wallin said.
In November six fire captains and a battalion chief sent Mahli an email saying they weren't comfortable with Wallin or Battalion Chief David Conrad leading the department. The firefighters claimed there are "countless interactions of deceit, intimidation, autocracy and hostility."
The city said at the time it was investigating the complaint.
KVRR reached out to the firefighters but never heard back.