Update: Fargo man accused of starting fire in apartment arrested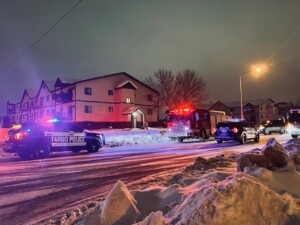 FARGO (KVRR-KFGO) – An odor investigation at a south Fargo apartment early Monday led to one man being taken into custody after he allegedly threatened firefighters and refused to let them into his apartment.
Firefighters responded to the call at the Village Park apartments at 4375 10th Avenue S. just after 5:30 a.m. Battalion Chief Dane Carley said a resident could smell smoke but the building's fire alarms were not going off.
Firefighters could see a light haze in first floor laundry room and narrowed the search for the source to a single apartment, but the resident of that apartment was not cooperative and would not let firefighters inside to investigate.
Thirty-nine-year-old Hector Bonilla was arrested for Endangering by Fire, Terrorizing, Aggravated Assault on a Peace Officer and Preventing Arrest.
At this time, fire damage appears to be limited to a bathroom vanity and the initial damage estimate is $1,000. Officials say the fire was intentionally set by Bonilla.
Officers tried to get Bonilla to leave and eventually used a taser in order to take him into custody. He was taken to the hospital and treated for smoke inhalation.