Fargo City Commission will meet privately to discuss dispute with business owner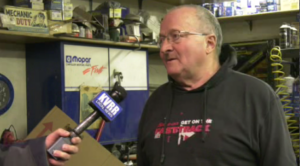 FARGO (KVRR) – The Fargo City Commission will meet in executive session Tuesday to consult with an attorney regarding a legal dispute with a north Fargo business owner who's been ordered to permanently close.
John Bultman, owner of John's Repair, is challenging the city's demands that he shut down before the end of March or face fines of up to $1,000 a day.
Bultman says he has an agreement with the city which allows him to continue to run his business, despite it being in a residential area. City officials say that all changed after Bultman sold the property and rented it from the new owner.
According to the City of Fargo, commissioners will meet behind closed doors "for the purpose of attorney consultation regarding the threatened litigation…alleging the "City's Illegal and Unconstitutional Attempt to Shut Down Small Business."
"To discuss these matters in open meeting will have a negative fiscal effect on the bargaining and/or litigation position of the City."
Bultman is represented by the non-profit Institute For Justice.
"The city seems to be taking the position that because John recently sold the property and is now a tenant at that property that he lost his grandfathering rights, but that's not how grandfathering rights work," attorney Erica Smith Ewing said.