Sen. Hoeven Praises Work of National Guard At Roughrider Conference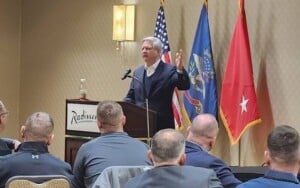 BISMARCK, N.D. (KVRR) — Senator John Hoeven is praising the work of the National Guard in serving our state and nation.
He addressed the North Dakota National Guard's annual Roughrider Conference Saturday in Bismarck.
Hoeven talked about upgrades to MQ-9 Reapers in Fargo, efforts to bring the MQ-1C Gray Eagle to the Army National Guard and work to make the Air Guard FTA Pilot Program permanent.
He says he is tremendously proud of their work along the southern border, in our nation's capital, overseas or when conducting missions right here in North Dakota.
Hoeven is a member of the Senate Defense Appropriations Committee.