MN Introduces 1st Chief Equity Officer
Doctor Stephanie Burrage will help create a new Equity and Opportunity Office for the state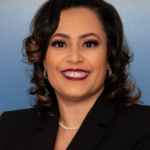 ST. PAUL, Minn. (KVRR) – Minnesota has a new statewide official.
Governor Tim Walz introduced Doctor Stephanie Burrage at the state's first Chief Equity Officer.
Doctor Burrage is the deputy commissioner for the Minnesota Department of Education. She has been a teacher and administrator in both Minnesota and Michigan for three decades.
She will help create a new Equity and Opportunity Office for the state to try and create equity and opportunities across Minnesota.
Dr. Burrage said at her introductory press conference, "I don't care where you are , if it's your race , gender sexual orientation, I don't care where we sit our geography, that is important to hold all of us together because I want to hear what we can do to make our state the best to lead for all."
Governor Walz says the goal is to build communities where everyone has a place and everyone has a voice in Minnesota.